Research report: Mortgage lending in Poland, 2023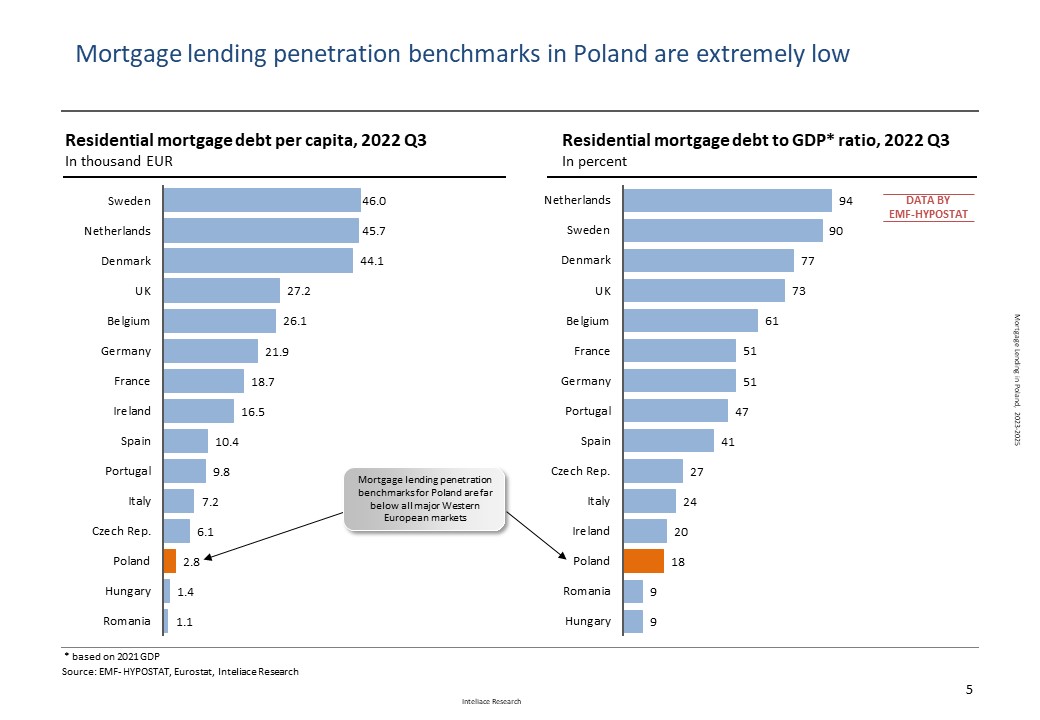 In Poland, in 2022, an abrupt decline in building starts (-28%) and new permits (-13%) was recorded. At the same time, the long-term trend of growing real estate prices slowed down visibly in the most expensive locations, such as Warsaw. An increasing number of existing homes being put on the market and more generous discounts offered by developers indicate that 2023 might see a stabilization or a slight correction in real estate prices.

The rapid monetary tightening cycle of the Monetary Policy Council (RPP), which raised interest rates by nearly 7% within a year, has taken its toll on mortgage lending. Sales of new mortgage loans collapsed by nearly 75% year-over-year in late 2022.

The negative momentum in the real estate market and in new mortgage lending is likely to persist through 2023. Assuming that there will be no further interest rate hikes, even the current level of rates is highly negative to new lending. The market is still far from equilibrium, and the growth in lending would require either significantly less expensive credit or lower real estate prices, both of which seem unlikely to materialize at least in 2023.

For more information on recent developments in the Polish banking sector, please refer to the full publication.
Table of contents

Executive summary
1. Residential real estate stock & prices
Slide 1: New dwellings completed, starts, permits, 2010-2022
Slide 2: New dwellings completed by regions, 2022
Slide 3: Residential real estate prices in key cities, 2014-2022
Slide 4: Value and volume of transactions involving real estate, 2017-2021
2. Mortgage lending
Slide 5: Total outstanding lending to households by type of loan, 2018-2022
Slide 6: Mortgage loans to households outstanding, local vs. foreign currency, 2018-2022
Slide 7: Mortgage lending penetration benchmarks - International comparison, 2022 Q3
Slide 8: Mortgage lending in Poland vs. Europe- market size vs. growth, 2020-2022 Q3
Slide 9: Number of new mortgage loans, value of new loans, average new loan size, 2018-2022
Slide 10: New sales of mortgage loans to individuals monthly/annual averages: 2017- Sept.2022
Slide 11: New mortgage loans by size and LTV, 2018 - 2022 Q3
Slide 12: Top banks by outstanding mortgage loans, 2019 - 2022 Q3
Slide 13: New mortgage contracts - split by type of interest rate applied, 2021 Q4- 2022 Q3
Slide 14: Average lending margins evolution – PLN loans, 2018-2022
3. Regulatory issues, risk
Slide 15: The evolution of mortgage loan NPLs, 2020-2022
4. Forecast
Slide 16: Mortgage loans – outstanding value forecast (PLN, FX loans), GDP penetration, 2023-2025
Methodological notes

End of report