Research report: Mortgage lending in Poland, 2015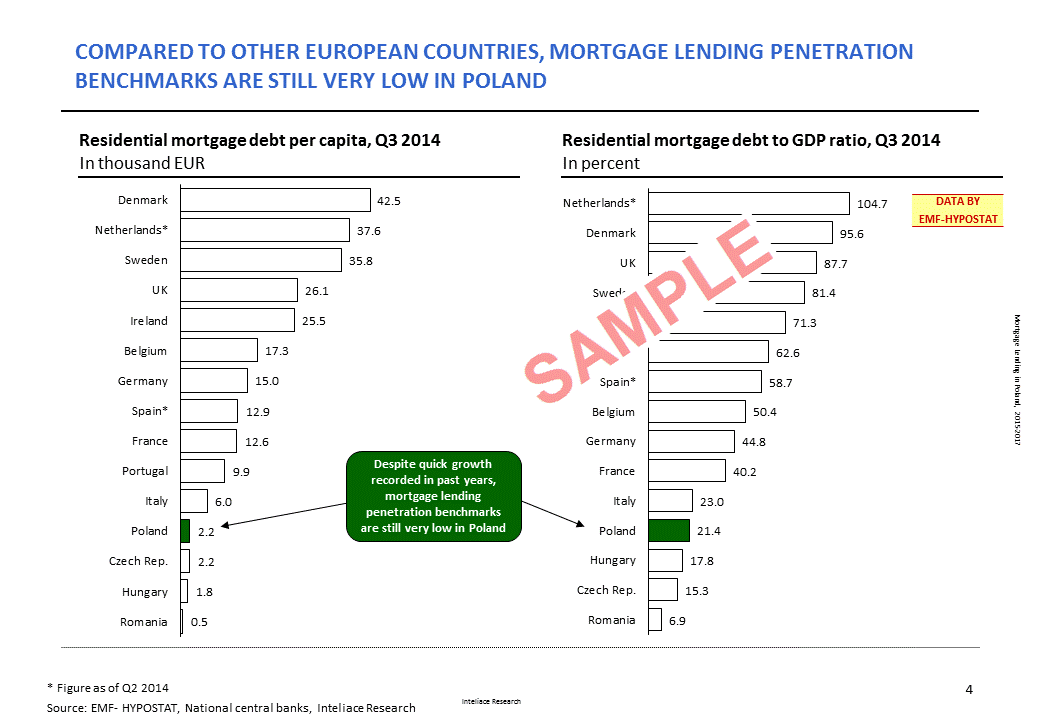 The value of outstanding mortgage lending in Poland was up a 6% in 2014, reaching a total 351 billion PLN at year end. Building on favorable economic developments, positive customer sentiment and the cost of money at record low, new mortgage lending in Poland is expected to accelerate in 2015 -2017. For more information on recent developments in the Polish banking sector, please refer to the full publication.
Table of contents

Executive summary

1. Residential real estate stock & prices
Slide 1: New dwellings completed , starts, permits, 2006-2014
Slide 2: New dwellings completed by regions, Q1-3 2014
Slide 3: Residential real estate prices in key cities, 2010-2014 Q3
Slide 4: Housing stock in Poland, dwellings, rooms, occupied space, census data 2002/2011

2. Mortgage lending
Slide 5: Total lending to households by client segments (individuals, entrepreneurs, farmers), GDP-penetration, 2008-2014
Slide 6: Total lending to households by type of loan, 2008-2014
Slide 7: Mortgage loans to households, local vs. foreign currency, 2008-2014
Slide 8: Number of new mortgage loans, average loan size, value of new loans, 2008-2014
Slide 9: Mortgage lending penetration benchmarks - International comparison, 2014 H1
Slide 10: New mortgage loans by size and LTV, 2011 Q1 - 2014 Q3
Slide 11: New mortgage loans by currency, 2011 Q1 - 2014 Q3
Slide 12: Top players (market share>5%) on the mortgage loans market, 2014 Q3
Slide 13: The role of financial intermediaries in mortgage loans distribution, 2009-2013
Slide 14: Reference rates: WIBOR3M & LIBOR CHF 6M, 2009-Jan.2015
Slide 15: Average lending margins evolution – PLN loans, 2010-2014
Slide 16: Average lending margins evolution – FX (EUR) loans, 2010-2014

3. Regulatory issues, risk
Slide 17: The evolution of mortgage loan NPLs, Mar.2009-Sept.2014
Slide 18: Regulatory environment with regards to mortgage loans
Slide 19: CHF/PLN exchange rate, 2000-Jan.2015

4. Forecast
Slide 20: Mortgage loans – outstanding value forecast and GDP penetration, 2015-2017

Methodological notes

End of report.