Research report: Insurance market in Poland, 2021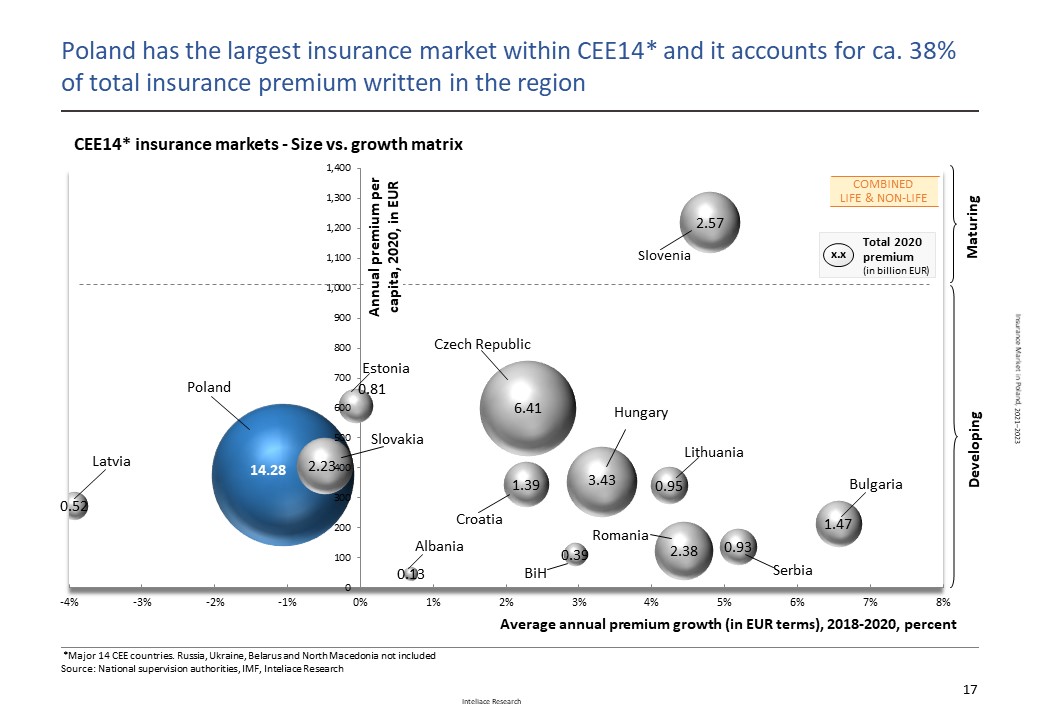 Poland has the largest insurance sector in CEE14 (Central and Eastern Europe*) with nearly € 14.3 billion in premium written p.a. and a 38 % share in the region. In 2021, premium is expected to continue its growth, and to add at least 7% and 6% in non-life and in life segment respectively.
A few last years have been challenging for insurers in Poland not only because of pandemics and lockdowns, but mostly due to record-low interest rates impacting gains on investments combined with rising operating costs and also considering unfavourable regulatory developments in life insurance segment. All those circumstances combined led to the falling profitability of insurers. In 2020, the net profit of non-life insurers went down by 15% to PLN 3.9 billion while the same benchmark for life insurers dropped 14% to PLN 2.2 billion.
Market fragmentation and regulatory requirements result in ongoing market consolidation. After the withdrawal of AXA - acquired by Uniqa and Aegon - to be purchased by VIG, even larger deals were announced last year, e.g. Aviva to be taken over by Allianz and MetLife to be sold to Nationale Nederlanden.
The outlook for insures operating in Poland remains positive. The life insurance segment is expected to continue the rebound after a long period of declines caused by the regulatory overhaul. The non-life segment is likely to benefit from the recent appreciation of value of properties, which is caused by accelerating inflation but also by increasing value of insured assets and overall growth in the wealth of individuals.

For more information on recent developments in the Polish insurance sector, please refer to the full publication.
Table of contents

Slide 1: Executive summary
1. Macroeconomic overview
Slide 2: Poland – Overview and key facts
Slide 3: Poland in Europe: Number of households vs. wealth, 2020
Slide 4: Key macroeconomic indicators, 2016-2021F
Slide 5: Foreign trade statistics, C/A, FDI, 2016-2021F
Slide 6: Unemployment and salaries/wages, 2016-2021F
Slide 7: Disposable income in households and income distribution, 2016-2021F; Income distribution 2020
Slide 8: Consumer confidence index evolution, Dec. 2014 – Oct.2021
Slide 9: Warsaw Stock Exchange - Turnover, Market cap. and indexes, 2015-2020
Slide 10: Banking assets evolution, 2016-H1 2021
2. Insurance market
Slide 11: Insurance Markets in CEE – Size vs. growth matrix, 2018-2020
Slide 12: Insurance premiums per capita & premiums/GDP penetration – CEE comparison, 2020
Slide 13: Insurance gross premiums - Local insurers (life/non-life, in EUR), 2017-2021F
Slide 14: Insurance gross premiums - Local insurers (life/non-life, in PLN), 2017-2021F
Slide 15: Top 10 insurance groups in Poland by total premium written, 1H 2021 (taking into account recently announced M&A)
Slide 16: Insurance market concentration and Herfindahl-Hirschman Index (life/non-life), 1H 2021 vs. 1H 2020
Slide 17: Current and upcoming Insurance M&A transactions in Poland, 2018-2021
Slide 18: Own funds for life and non-life insurers, 2017-1H2021, SCR coverage ratios, 2018-2020
Slide 19: Insurance – Regulatory institutions
Slide 20: Private health Insurance – Opportunity for insurers; Premium written, 2018-2021F
3. Non-life insurance
Slide 21: Non-life insurance markets in CEE – Size vs. growth matrix, 2018-2020
Slide 22: Non-life premiums per capita & premiums/GDP penetration – CEE comparison, 2020
Slide 23: Non-life insurance gross and net premium evolution, 2017-2021F
Slide 24: Top 10 non-life insurance players in Poland, 1H 2021
Slide 25: Market shares of top non-life players evolution, 2018-1H 2021
Slide 26: Non-life premium by client segment and insurance class (car insurance vs. other), 1H 2021
Slide 27: Non-life premium by risk class, 2019-1H 2021
Slide 28: Sales channels of non-life insurance, 2018-2020
Slide 29: Non-life insurers results, technical and P&L accounts (waterfall chart), 2020
Slide 30: Non-life insurance - Profitability tree, 2017-1H2021
Slide 31: Non-life insurance - Claims and expense ratio evolution, 2017-1H2021
Slide 32: Non-life insurance - Combined ratio and its elements, 2017-1H2021
Slide 33: Non-life insurance - Acquisition costs evolution, 2019-1H2021, acquisition cost ratios for top non-life insurers, 2020
Slide 34: Network multi-agents: Unilink, CUK, Conditor, LGK , Asist, Arrant, DCU etc.
Slide 35: Car insurance - Premium and no. policies evolution, MTPL, Casco, 2017-1H2021
Slide 36: Car insurance - Top players in MTPL and in Casco, 2019-1H 2021
Slide 37: Car insurance - Combined ratio and its elements, MTPL and in Casco, 2019-1H 2021
Slide 38: Car insurance - Average premium per policy for Casco and TPL, 1Q2016-2Q2021
4. Life insurance
Slide 39: Life insurance markets in CEE – Size vs. growth matrix, 2018-2020
Slide 40: Life premiums per capita & premiums/GDP penetration – CEE comparison, 2020
Slide 41: Life insurance gross and net premiums evolution, 2017-2021E
Slide 42: Top 10 life insurance players in Poland, 1H 2021
Slide 43: Market shares of top life players evolution, 2018-1H 2021
Slide 44: Life premium by insurance class and segment, 1H 2021
Slide 45: Life premium by risk class evolution, 2019-1H 2021
Slide 46: Life insurance technical reserves evolution and structure, 2018-1H 2021
Slide 47: Sales channels of life insurance, 2019-2020
Slide 48: Life insurers results, Technical and P&L accounts (waterfall chart), 2020
Slide 49: Life insurance - profitability tree, 2017-1H2021
Slide 50: Life insurance - acquisition costs evolution, 2019-1H 2021, acquisition cost ratios for top life insurers, 2020
5. Bancassurance
Slide 51: Bancassurance: Premium written by bank channel (life/non-life), 2018-2020,data by KNF vs. data by PIU
Slide 52: Bancassurance: Product/class split in bank channel (life/non-life), 2Q 2021
Slide 53: Bancassurance: Sales of investment type life products other than unit-linked, 2017-2021F
Slide 54: Bancassurance: Comparison websites and online sales sites of banks – overview, 2021
6. Top players' profiles
Slide 55: PZU
Slide 56: Warta
Slide 57: ERGO Hestia
7. Forecast
Slide 58: Non-life insurance premiums forecast, 2021–2023
Slide 59: Life Insurance premiums forecast, 2021–2023
Slide 60: Notes on Methodology

End of report. 2